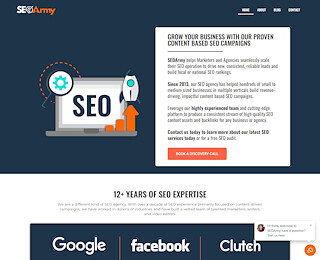 Website content is crucial in defining your brand's online presence and influencing visitor behavior. At Writer Army, we understand the vital role of high-quality, SEO-optimized website content, and we're committed to helping you excel in this area. Below, we answer some of the frequently asked questions about our website content services.
What Services Are Included in Your Website Content Services?
Our website content services cover a broad spectrum of needs, including but not limited to, writing engaging homepages, informative service pages, compelling product descriptions, insightful blog posts, and persuasive landing pages. We tailor each piece of content to fit your brand's voice and goals while ensuring it's SEO-optimized to boost your online visibility.
How Do You Ensure the Content Matches My Brand Voice?
Our team at Writer Army invests time in understanding your brand, including its tone, style, values, and target audience. We collaborate with you closely, taking note of your preferences and requirements, to ensure the content we create aligns with your brand's unique voice and effectively communicates your message.
Are Your Website Content Services SEO-Friendly?
Yes, SEO is a key consideration in all our website content services. Our team is well-versed in the latest SEO practices. We create content that integrates relevant keywords and uses SEO-friendly formatting, helping your website gain visibility in search engine results and attract your target audience.
Can You Write Content for Any Industry?
Absolutely. Our team of writers at Writer Army has expertise across a wide range of industries. Whether your business operates in tech, healthcare, e-commerce, finance, or any other sector, we can produce content that's informed, relevant, and engaging for your audience.
What If I Need Revisions on the Content Provided?
We strive for complete client satisfaction and offer revisions based on your feedback. Our aim is to provide content that meets your expectations and delivers on your objectives. Your feedback is valuable and helps us refine and perfect the content to your liking.
How Quickly Can I Expect the Content?
Our turnaround time varies depending on the volume and complexity of the work. However, we understand that timely content delivery is crucial for your planning and operations, and we're committed to meeting agreed deadlines. We will establish timelines at the beginning of our collaboration.
Do You Provide Ongoing Content Support?
Yes, we do. At Writer Army, we believe in building long-term relationships with our clients. Whether you require ongoing monthly content for your blog, regular updates to your service pages, or timely content for a seasonal campaign, we're here to provide consistent content support as you need it.
Choose Writer Army for Your Website Content Needs
We hope this FAQ has provided some valuable insights into our website content services at Writer Army. Remember, compelling, SEO-friendly website content can significantly enhance your online presence and engagement with your audience. If you have more questions or are ready to take your website content to the next level, don't hesitate to reach out to Writer Army. We're here to help! Contact us today.